Contributed by Compatriot James Hamilton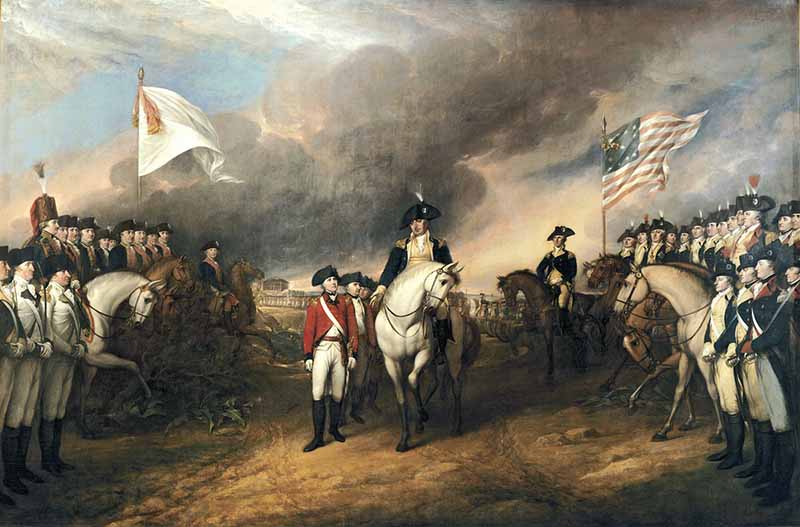 War can create hero's, while at the same time many faces fade into the landscape of time. There are many stories never taught in history books. This is the case for Robert Wilson, the youngest commissioned officer in the Continental Army. He was 18 years of age at the time of the Battle of Yorktown. On October 19,1781, Lord Cornwallis surrendered his entire force, military and naval to the allied forces of America and France. The Army with all of its artillery, stores, military chest, etc. The Navy was surrendered to French Admiral de Grasse.
The delivery of the colors was recounted by the infamous historical writings of Benson Lossing in his book The Pictorial Field Book of the Revolution.
"For this purpose, twenty-eight captains, each bearing a flag in a case, were drawn up in a line. Opposite to them, at a distance of six paces, twenty-eight American sergeants were placed in a line to receive the colors. When Wilson gave the order for the British captains to advance two paces to deliver their colors and the American sergeants to advance two paces to receive the colors the former hesitated and gave a reason that they were unwilling to surrender their flags to non-commissioned officers, Alexander Hamilton who was at a distance observed the hesitation rode up to inquire the cause. On being informed, he willingly spared the feelings of the British Captains and ordered Ensign Wilson to receive them himself and hand them to the American sergeants."
In the pictures seen here you will find the pewter tea caddy and creamer owned by Ensign Wilson. It is inscribed that these were used in the 1781 camp during the American Revolution. Also, you will see Ensign Wilson's initials engraved on these items. The two Revolutionary War items were there at the surrender of Cornwallis.
Other items seen here include a broadside printed in 1807 where Wilson refutes the attacks of the of the publishers of Plain Truth for maligning his reputation.
Additionally, a letter from his mother stating her joy that Robert came through the Indian hostilities along the Mohawk River, without having received a wound. He later would rise to the rank of Colonel.