Believe it or Not
The Washington Elm
Contributed by Compatriot Jim Hamilton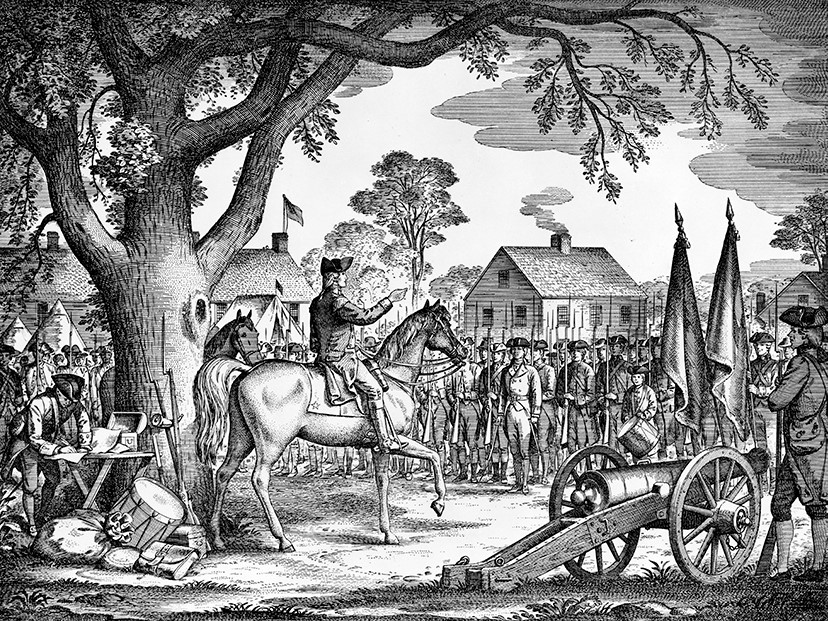 George Washington is no doubt the figure head of the American Revolution. Justifiably so. It has been stated that Washington took command of the Continental Army on July 3, 1775. The location was Cambridge, Massachusetts. The story and picture representation was Washington taking command under what was to become known as the Washington Elm. The story was stated by Henry Wadsworth Longfellow who lived in the Revolutionary War headquarters for Washington in Cambridge. This story became credible through the later published fictional eyewitness documented in The Diary of Dorothy Dudley. However, there is no fact-based evidence that Washington took command under this elm. However, it is fact that Washington did take command of the Continental Army on July 3, 1775 in Cambridge.
The belief that this occurred under the Washington Elm helped create this location being visited by many tourists. It became a historical landmark. In 1923 with the Elm being very fragile and diseased, the tree came crashing down in a storm. The tree was divided into 1,000 pieces and distributed to all the states and their legislatures. A cross section of the tree was sent to Mt. Vernon, the home of George Washington, where some pieces were sold over the counter, others given to fraternal orders and a few hundred mailed throughout the United States. Many seedlings and root shoots were distributed across the U.S., with some still thriving today.
The picture seen below is one of those pieces from the Washington Elm. There is no documented credible fact that indicates Washington took command of the Continental Army under this elm tree. However, as one historian and researcher of this tree said, there is no credible story to indicate that Washington did not take command in this location. As for the author, I will lean into the realm that this story is fact, just based on the origination of this story coming from the time frame of this actual historical incident.